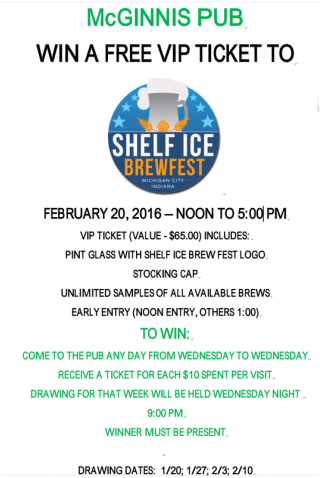 Welcome to McGinnis Pub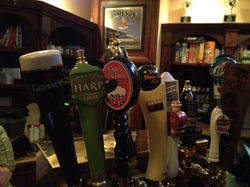 Kitchen Hours:
Monday - Thursday 11:00am - 9:00pm
Friday and Saturday 11:00am - 10:00pm
Sunday 11:00am - 8:00pm
Bar Hours: Monday - Thursday, at least midnight, may be later. Friday and Saturday, at least 1:00 am, maybe later.

February 9, 2016, Fat Tuesday Celebration. Special Cajun Menu.



St. Patrick's Day Queen Contest - February 27, 2016, 8:00 - 11:00. Join in the fun! Get your application from the Bartender.



JOIN US FOR THE McGINNIS PUB TRIP - 2016, A RIVER CRUISE FROM AMSTERDAM THROUGH THE NETHERLANDS AND BELGIUM ENDING JUST OUTSIDE OF BRUSSELS. WE DEPART FROM AMSTERDAM ON APRIL 13, 2016. CONTACT SHARON ROCHE FROM GO TRAVEL, 708-532-1000 FOR MORE INFORMATION.

We are located in Michigan City, Indiana, less than one mile from Lake Michigan, the beach, Washington Park and the Marina. We are also very close the the Blue Chip Casino and across the street from Lighthouse Place Premium Outlets. We are only one hour from Chicago.


Our restaurant/bar is located in a beautifully renovated home that was built in 1887. We have a lovely outdoor patio with a stone fireplace. We also have a quaint party room for private events. Please take a look at our other pages including two menu pages, an event page, photo page and our store. We hope to see you at the Pub!


---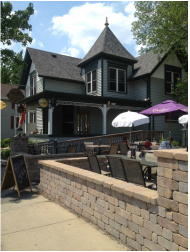 ---
Contact us at info@mcginnispub.com or (219)872-8200
Visit (and like us) on
Facebook: https://www.facebook.com/mcginnispub Twitter: https://twitter.com/McGinnisPubMC